Chinese Yuan Leads Asia FX Lower as Dollar Hits 20-Year Peak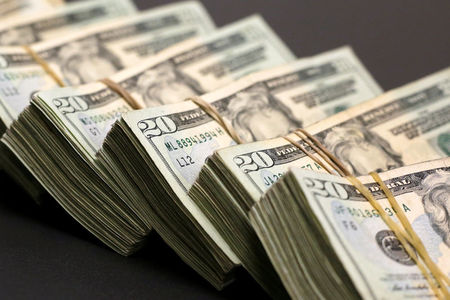 By Ambar Warrick
Investing.com-- China's yuan led losses across Asian currencies on Monday after weak industrial data, while the U.S. dollar hit a 20-year high on hawkish signals from the Federal Reserve.
The yuan plummeted over 0.6% to 6.9160, hitting its weakest level in 2 years. Data over the weekend showed Chinese industrial profits declined through July, indicating more weakness in the country's economy.
But the main source of pressure on the yuan and other regional currencies was hawkish signals from the Fed, which drove the dollar index up 0.4% to its highest level since June 2002. Dollar index futures rose 0.5% and were trading around similar levels.
Fed Chair Jerome Powell signaled on Friday the central bank had no intention of a dovish pivot, and that interest rates are set to rise steadily. Powell also warned of a potential U.S. economic slowdown.
His warning dented most risk-driven markets, with U.S. stocks posting steep losses on Friday.
Japan's yen was also among the worst Asian performers on Monday, losing nearly 0.7%. The yen has been hit especially hard by a growing divergence between local and international interest rates, due to the Bank of Japan's hesitance to tighten monetary policy.
Broader Asian currencies slumped between 0.1% and 0.8%, as Powell's comments drove widespread flows into the dollar. Focus is now on U.S. payrolls data due later this week, which could give the Fed even more space to raise interest rates.
Over 60% of traders now expect the central bank to hike rates by 75 basis points in its next meeting, pointing to further pressure on Asian currencies.
Regional units have fallen substantially this year amid rising U.S. interest rates and strength in the dollar. Tightening U.S. monetary policy also limits the amount of cash available for foreign investment.
Rising oil prices also weighed on most Asian units on Monday, given their dependence on oil imports.
In the Asia-Pacific region, the Australian dollar fell 0.4%, but trimmed some of its losses after better-than-expected retail sales data for July.
The Thai baht was the worst performer in Southeast Asia, losing nearly 0.8%.