Chinese Yuan hits 3-Mth low After Surprise Rate Cut, Asia FX Sinks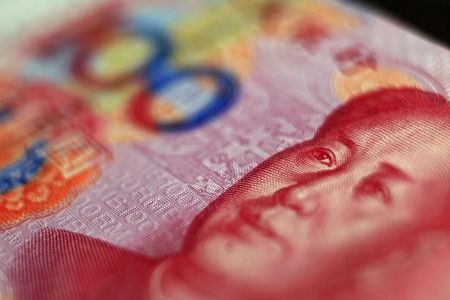 By Ambar Warrick
Investing.com-- China's yuan fell the most among Asian currencies on Tuesday, hitting a three-month low as a surprise rate cut by the central bank raised concerns over slowing economic growth.
The yuan sank 0.2% to 6.7881 to the dollar- a level last seen in May- after the People's Bank of China cut its loan prime rate to 2.75% from 3.70% on Monday.
The rate cut was also helmed by data showing Chinese retail sales and industrial production grew less than expected in July, pointing to an extended slowdown in the mainland.
Weakness in the Chinese economy has been spurred largely by a series of COVID-19 lockdowns this year. Despite their clear economic impact, the Chinese government is hesitant to scale back its strict zero-COVID policy.
Chinese markets have suffered as a result, with analysts downgrading their outlook for economic growth this year. Concerns over China have also dented global commodity markets with the prospect of weaker demand.
Losses in China spilled over into other Asian markets, given the country's position as a dominant trading partner. The Australian dollar plummeted over 1% on Monday, before rising slightly on Tuesday.
The Malaysian ringgit, Indonesian rupiah, and Philippine peso- countries that depend on China as an export destination- fell between 0.1% to 0.3%. All three currencies had fallen sharply on Monday, after the rate decision.
ING downgraded its Chinese economic growth forecast to 4% from 4.4% for 2022, citing increased economic headwinds from slowing activity.
"Real estate property construction, home sales and mortgages are just part of the weaknesses we have seen in the Chinese economy. Export demand could also weaken… this will derail job growth in China, creating a vicious cycle on consumption and economic growth despite COVID measures becoming more flexible," Iris Pang, Chief Economist, China, at ING wrote in a note.
The U.S. dollar rose after the Chinese data and rate decision, further pressuring most Asian units. The dollar index and dollar index futures traded flat on Tuesday, after adding nearly 1% each in the prior session.